The Right People
for the Job
Turnkey Solutions

The problem isn't always just about finding the right lighting distributor or installer, the problem can sometimes be finding a lighting distributor and lighting installer that can make the lighting work! FSG is a full-service, turnkey provider that will help you not only get the lighting you need but will also help you get that lighting installed.

Your Expert Partner

You want to know that your project partner knows what they are doing. With years of real-world experience, the FSG Las Vegas team is intimately familiar with the best-of-breed products and solutions available today, and will build a lighting package that meets your exact needs. 

Support & Service You'll Love

From our experienced in-house professionals, to our dedicated and skilled site technicians, to our courteous and passionate support and customer care teams, every custom-designed solution FSG Las Vegas offers comes with our signature service and attention to detail.
FSG Las Vegas Lighting Services
A Full-Service Licensed Commercial Electrician Ready When You Need Us
Business owners and facility managers face complex challenges with their lighting systems, that's why we offer a full range of lighting solutions for our customers.  We focus on delivering excellent customer service on every job. We serve the interior and exterior lighting needs for the greater Las Vegas area.
Our New Mexico Area Services & Capabilities Include: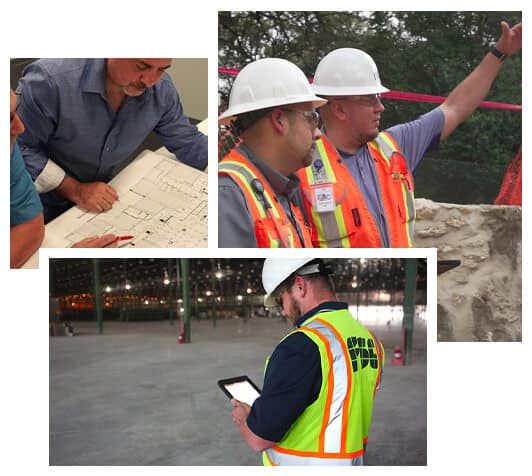 4 Reasons to Upgrade Your Lighting to LED
LED lighting systems use less energy than traditional incandescent lighting and fluorescent lighting, therefore reducing energy costs.
In addition to being more energy efficient, LED lighting produces a higher light output, and color rendering resulting in higher quality of light
LED lighting has a longer lifespan than legacy light sources. So you'll be changing your light bulbs less and focusing maintenance efforts elsewhere.
Upgrading to new fixtures and LED bulbs can result in high rebate amounts from your utility company to help fund your lighting projects.
FSG's 4 Step Turnkey Lighting Retrofit Plan
FSG's four-step plan makes it easy for you to lower your operating costs. Watch the video to learn how FSG can transform your lighting system and be your single-source provider for lighting retrofit solutions.
FSG Las Vegas is a commercial lighting and commercial electrical contractor focused on solving facility challenges large and small.
The strength to get the job done.

Since 1982, FSG has served customers of all size and in all industries. From single-store operations to Fortune 100 enterprises, FSG has seen every type of facility and challenge.

Every FSG customer gets the benefit of our experience and knowledge in the solutions we provide. Know you're working with a partner that is ready to serve, whatever may come.

Our commitment to results is matched by our desire to see every client succeed. That's why FSG stands behind every project we design, build, or install. We are focused on your success.
Whether you're across the nation, or around the corner...
Get started today! Fill out the form and we'll schedule a call to talk through a custom solution for you.