One source repository for associated documentation including contracts, quotes and approval documentation.
Ability to capture all utility key information such as building type, square footage, SIC, number of employees.
Notes field in the Marketing Activity provides a record of project specific communication between all participants.
The Value of Accuracy is Communication
This  allows people to communicate real time without having to send an email or pick up the telephone. For example, when a customer wants to communicate a change to a specific project, he puts his comments in the notes field, and an automated email goes out to FSG letting them know to follow up.
Green Solutions
Marketing Activity Collects Data On:
 Milestones
 Key Dates
 Inspections
 Customer Complaints
 Corrective Actions
Security controlled access to functionality and reporting so some can view and report while others create projects and proposals.
Utility OR Program Manager (or both independently) can control key milestone dates, approval dates, and more to "control" all marketing activities as they choose.
Standardized measure database bringing simplicity, speed, accuracy, transparency and consistency to all proposals/projects.
Allows for a Consistent Program, Pricing & Measures
Standardized labor units that streamline and speed up labor estimating and procurement (tested and agreed to with over 30 contractors).
While other programs nationally can fix and control material pricing, Green Solutions adds control of the labor component. With a thoroughly developed database, we get a buy-in from participating installers, (sometimes coupled with training/education) to give the same pricing consistency and value usually associated with product.
Complete automated project management system that reduces errors and costs to set up a budget and purchase materials, increasing accuracy and reducing costs.
Ability to create Fixture Schedule, line by line, packing list and fixture cut sheets automatically for installing contractor and customer, reducing errors and securing contractor buy-in on measure pricing.
Double check validation process with Certificate of Completion and Turnover Checklist.
Strong close out ability with turnover process, ensuring utility customer's satisfaction after the sale.
Complete reporting of all details for testing, verification, and compliance for both retail savings and BPU protocols and savings.
Provides access to additional information on the FSG database that they do not necessarily want to import, but which adds value from day to day.
Custom reporting available to suit program needs.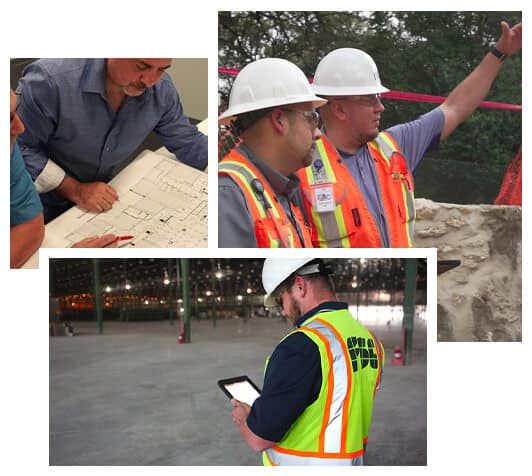 You Don't Have to Be a Lighting Expert, but You Can

Feel Like One
At FSG, we've put together this comprehensive guide to help you navigate the complicated world of commercial lighting products and services. The guide walks you through replacing your commercial lighting, from the bulb types to the lighting audit to installation. Included are lighting worksheets that you can print for your team as well as a detailed bulb reference chart, so you know exactly what's in your facility.
Download Commercial Lighting Buyers Guide
The strength to get the job done.

Since 1982, FSG has served customers of all size and in all industries. From single-store operations to Fortune 100 enterprises, FSG has seen every type of facility and challenge.

Every FSG customer gets the benefit of our experience and knowledge in the solutions we provide. Know you're working with a partner that is ready to serve, whatever may come.

Our commitment to results is matched by our desire to see every client succeed. That's why FSG stands behind every project we design, build, or install. We are focused on your success.
Whether you're across the nation, or around the corner...
Get started today! Fill out the form and we'll schedule a call to talk through a custom solution for you.