The Right People
for the Job
Turnkey Solutions

The problem isn't always just about finding the right lighting distributor, the problem can sometimes be finding a lighting distributor, and a lighting installer that can make the lighting work! FSG is a full service, turnkey provider that will to help you not only get the lighting you need, but will also help you get that lighting installed.  

Your Expert Partner

You want to know that your project partner knows what they are doing. With years of real-world experience, the FSG DFW team is intimately familiar with the best-of-breed products and solutions available today, and will build a lighting package that meets your exact needs. 

Support & Service You'll Love

From our experienced in-house professionals, to our dedicated and skilled site technicians, to our courteous and passionate support and customer care teams, every custom-designed solution FSG offers comes with our signature service and attention to detail.
FSG Dallas Lighting Services
A Full-Service Licensed Commercial Electrician Ready When You Need Us
Business owners and facility managers face complex challenges with their lighting systems, that's why we offer a full range of lighting solutions for our customers.  We focus on delivering excellent customer service on every job. We serve the interior and exterior lighting needs of the greater DFW area.
Our Dallas Area Services & Capabilities Include: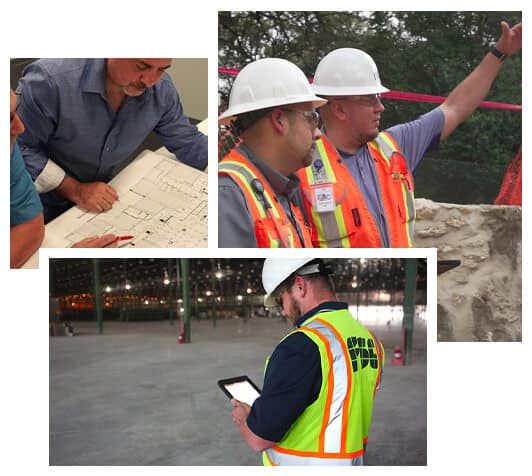 AVAILABLE ONLY THROUGH FSG
Ask About the 4-in-1 Disinfection Cart
FSG has partnered with CELLO to release a brand new 4-in-1 disinfection cart that combines UVC (air & surface), NPBI, and HEPA technologies to disinfect classrooms, office spaces, and more. These units change the air an average of 10 times per hour and are available for as little as $5/day.
The strength to get the job done.

Since 1982, FSG has served customers of all size and in all industries. From single-store operations to Fortune 100 enterprises, FSG has seen every type of facility and challenge.

Every FSG customer gets the benefit of our experience and knowledge in the solutions we provide. Know you're working with a partner that is ready to serve, whatever may come.

Our commitment to results is matched by our desire to see every client succeed. That's why FSG stands behind every project we design, build, or install. We are focused on your success.
What our Customers Have to Say

Best company to use for your electrical needs Jason is always helpful.
Great customer service and response time.
Great service. They know their stuff. Great for commercial lighting needs
Great service and communication. They helped us save a lot of money on our electric bill and get a great rebate from SCE. Thank you all!
I absolutely love their Customer Service and Ms. Dorthy at the counter is worth 2Million a year easily as great as she is!
I have used FSG for numerous projects. They have been great business partners on our many projects.
FSG San Antonio did an excellent job on our commercial lighting project. We had to change out our old metal halide lights in a 40,000 sq ft warehouse, and the LED lights are amazing. We received an energy rebate and we are already saving money. Thanks Wyatt and team!
In FSG, we found a partner that will be here with us for the long haul. We know that if ever we need them, they are only a phone call away.
They are one of the few places I could find that will recycle fluorescent tubes, specifically the 8′ variety. They're quite a bit cheaper than one of the chain stores around here that also would do that.
Great customer service, they show when they say they will. The electricians very knowledgeable and know there stuff. The staff in there showroom go out of there way to give the best customer service. I guess that's why they have been the only electrician I've used for the last 10 years and will continue to call them when needed.
Whether you're across the nation, or around the corner...
Get started today! Fill out the form and we'll schedule a call to talk through a custom solution for you.