Fantastic Career Opportunities at Propel Career Academy
During long holiday weekends and other special occasions, we can look forward to spending time with family and friends and reflecting on the many blessings we share. While thinking about all the things we've got going for us, let's make sure to remember that one of the biggest blessings we have is the opportunity to improve our lives.
No matter the obstacles and despite all the challenges we face, we are fortunate to live in a time and place full of opportunities to improve our situation. This really is something to be thankful for.
For many people, acting on this blessing might involve a personal resolution to strengthen a relationship or to embrace self-improvement activities by focusing on health, fitness, or some other life goal. The ability to choose our own path in these ways is another blessing in itself, and our freedom is perhaps the most important thing we all share.
For those whose career path so far has really just been a series of temporary jobs that didn't live up to expectations, long weekends and special occasions are the perfect time to see things more clearly. Ask yourself these questions: What would it take to break out of that pattern and begin down a new road toward a long and satisfying career?
What would it take to leave the short-term jobs behind, to actually learn a trade, and to provide the type of life that would be remembered and appreciated by you and your family for many years to come?
WATCH: Become An Electrician | Learning to Become an Electrician
If you've been waiting for a sign or maybe just the right type of opportunity, the good news is that the time to make that change is right now. Propel Career Academy in San Antonio is accepting enrollment for classes that can get your career off to a great start. Is this the news you've been waiting for?
It All Starts at Propel Career Academy
Propel Career Academy is affiliated with FSG, one of the nation's Top 20 Electrical Contractors. Graduates of the Propel program have immediate opportunities to work on some of the most exciting projects being done anywhere in the world.
That means that, unlike other vocational training programs, you'll finish your time at Propel with industry connections in place and ready to support you as you begin your career as an electrician.
Propel Career Academy is focused on the long-term goals of its students. The program at Propel doesn't just train students to do one job forever. Graduates of the Propel Career Academy are set to enjoy new and exciting opportunities in the electrical trade for the rest of their working life!
But it all starts with a decision to put in the time and effort involved in learning a skilled trade. That can prove to be challenging at times, but everyone who has completed the training understands that education is what sets them apart, and that hard work is what makes them – and their families – proud.
A lot of training programs offer the skills, but don't give you the actual hands-on experience you need to be competitive on the job site. Propel is different. Propel provides skills training and in-field experience at the same time, so you are ready to go to work the day after you graduate.
Most importantly, the Propel Career Academy offers training and testing services in a first-class environment with top tools and teachers on a schedule that keeps you working while you earn your certifications. You will be challenged, but you will definitely be supported by the team at Propel Career Academy.
Others have done it, and you can, too! Let's take a quick look at some people who may have been like you just a few short years ago. What has a career in the electrical trade meant to them? What do their lives look like now?
Wait. Electricians Do This?
Two young men sit down on a high-rise building's top ledge, swing their feet out into thin air, and start to ease themselves over. Slowly, methodically, they lower themselves until only their arms and heads are visible over the lip of the skyscraper. Then, they start walking. Backward.
The soles of their boots contact the glass and steel of this modern office building. Suspended by lines, a safety harness, and even more lines, the young men move their feet back and begin to descend down the face of one of the tallest buildings in Fort Worth.
For Eddie Ramirez and James Padron, this is just another day on the job. Eddie and James are electricians at FSG, and they are trained and licensed in rappelling.
They walk backward down the sides of skyscrapers to install lights, run wire, perform repairs, and more. Working for FSG, with capabilities including lighting, electrical, technology, and signage, these two are never really sure what the next project might bring.
All they know is this: they love what they do.
Two Paths Led to the Same Place
They arrived at the top of this building by two very different paths. James was an experienced electrician who had worked with multiple contractors. His introduction to rappelling, though, didn't come until he started working for FSG.
"I couldn't get on the team fast enough".

James Padron, FSG Electrician
What had drawn James to FSG was the variety of work, as well as FSG's focus on safety. "At the [other electrical contractors], safety wasn't that big of a concern. FSG, though, is known as a very safe company," he says as he holds up his harness.
James and Eddie both go through an extensive pre-rappelling safety routine. First, they need to don all their gear, including special pocketed pants, gloves, knee and elbow protection, and headwear.
Next, they must secure their harnesses. Each harness has several points of connection to keep everything –including the person in the harness – right where they're supposed to be.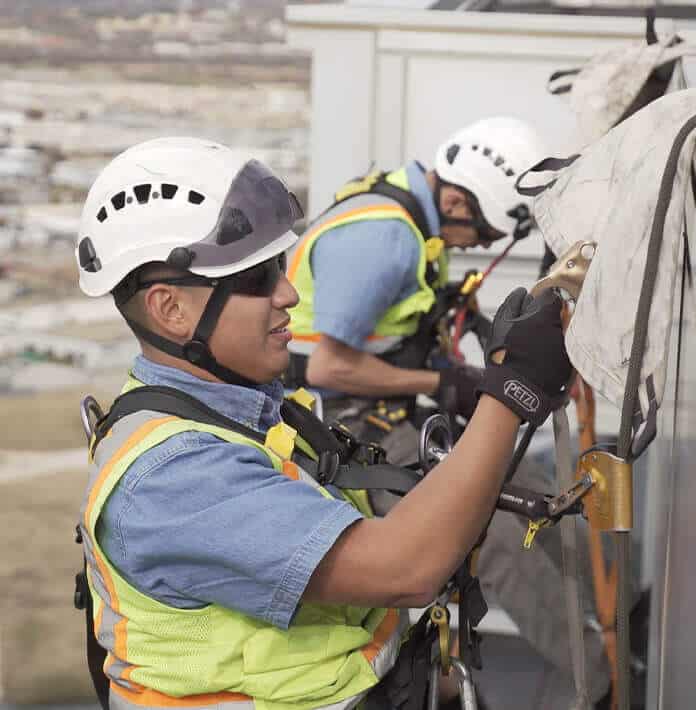 As they complete this step and start assembling their ropes and lines, they are constantly checking their own work and checking each other. Finally, after they're both satisfied with the integrity of their safety equipment, it's time to start doing what FSG does. For Eddie, that's when the real magic begins.
His first job at FSG had nothing to do with climbing and descending massive structures. "When I first started at FSG, I was hired on to work in the warehouse," he laughs as he looks out over the view from his new "office" two-dozen stories in the air.
"The service department was looking for apprentices, and they came and talked to me about it. They asked me if I was interested, and I said 'Yes!'"

Eddie Ramirez, FSG Electrician
While many folks looking to get into electrical work must first put themselves through long months of training and study, Eddie was able to do it all on the job.
FSG's in-house Apprenticeship Program makes it possible for people like Eddie to keep working (and earning) while they learn an entirely new trade. As part of the program, one of FSG's journeyman electricians – men and women who have received their own license – took Eddie under his wing and showed him the ropes. Literally.
"The first time I saw [my journeyman] go rappelling, I was like, 'You're crazy!'"

Eddie Ramirez, FSG Electrician
"The first time I saw [my journeyman] go rappelling, I was like, 'You're crazy!" he says, while he and James prepare their tools. Eddie couldn't help but feel intrigued, though, and before he knew it he was slithering down skyscrapers, too.
For James and Eddie, working as rappellers at FSG is a chance to see and do things they never could have imagined. "I wanted to do something more than work at a warehouse," says Eddie.
"Rappelling at FSG is my favorite thing to do at work!"

James Padron, FSG Electrician
"Rappelling at FSG is my favorite thing to do at work," James says simply. "I've definitely enjoyed working at FSG for the last sixteen years," he grins.
With great pay, great benefits, opportunities to advance, and perhaps most importantly, a fun and family-like working environment, James is not alone in feeling this way. These are the things that all FSG employees take from their careers.
For James and Eddie, the unique nature of their works makes it all that much more special.
"I enjoy coming to work every day," Eddie says, as he and James wrap up the day's rappelling and replace all their lines and safety equipment. "I'm comfortable here, and I like the people I work with."
He and James exchange a fist bump as they get ready to descend the building for the final time–this time, using the stairs.
"It's just a great company," Eddie says, looking at the FSG logo.
So How About You? Do You Want to Become an Electrician?
Do any of these statements sound like you?
If you like working with your hands, become an electrician.
If you like building and improving things, become an electrician.
If you want to go straight from the classroom to the job site, become an electrician.
If you want to work now instead of going to college, become an electrician.
If you want a good wage, an exciting job, and a rewarding career, become an electrician.
These are just a few of the reasons why a career in the electrical trades might make perfect sense for you. FSG and Propel Career Academy are excited to offer a full program of courses designed to guide people through the process of becoming licensed electricians.
Are you looking for a job that will take you out of the ordinary, that will give you the chance to do something unique every day? Do you want great compensation, but also a culture of safety, fun, and helpfulness?
WATCH: Become an Electrician | A Satisfying Career
If you always thought being an electrician just meant tightening wire nuts, or connecting circuits, James and Eddie have a different perspective to offer. Their job, along with most positions at FSG, are hardly ever the same from one day to the next. Electricians at FSG work in the biggest cities, on the tallest structures, installing, repairing, and maintaining complex and exciting technologies.
Whether you're an experienced journeyman, or someone looking to start something completely new, FSG and Propel Career Academy has a path that's right for you. Visit our Careers page today to learn how an electrical career can not only be exciting, but it just might change the life of you and your entire family.
See the Opportunity, and Then Take Action
It has been said that when we look back on our lives in old age, we tend to forgive ourselves and others for the mistakes made in our younger years. What we really regret, however, are all the times we didn't take action because we were afraid.
Mistakes? Everybody makes them. Opportunities? Not everybody recognizes them, and even when they do, sometimes people are afraid to step out in faith toward a brighter future.
Remember this: every great career begins with an opportunity to improve your life and a decision to take advantage of that opportunity. Do not be afraid to be bold! Your future is waiting for you! A rewarding career as an electrician is one click away.
We sincerely hope you take the time to learn more about Propel Career Academy and the very real opportunity to begin a meaningful career in the electrical trade. Take the first step by reaching out to learn more about how to get started at Propel Career Academy.
Contact Propel Career Academy today by calling 888-338-7712 or visiting their website PropelCareerAcademy.com.